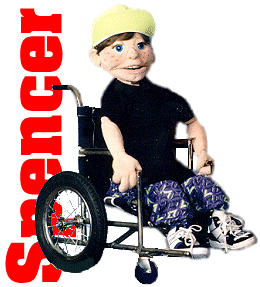 Spencer has been with Jan Goodwin since 1990.
He is a soft sculpted character made personally by Jan Goodwin.
Spencer is in a wheelchair and is used primarily for disability awareness programs presented to a variety of groups, including schools, corporate orgainizations, community organizations, membership groups, and nonprofit agencies.
Spencer's message is, "Yes, I have a disability, but I can live life to the fullest and be independent".
Performances are upbeat, and Spencer is precocious, inquisitive, and humorous. "A must see event!"